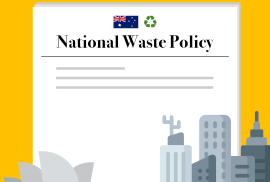 Written by:
Khushnoor Dhaliwal
Murdoch University
CWTS-ACICIS Intern (January-February 2022)
Businesses and governments in Australia are recognising the potential waste materials give and the economic worth they maintain and are working towards a circular economy. This trend can be seen across the world, especially in the European Union, Canada, and Australia's main trading partners, such as China. The 2018 National Waste Policy establishes a framework for corporations, governments, communities, and individuals to work together until 2030. The government has done a commendable job of implementing measures such as phase out of superfluous plastics, increasing recycling through purchasing power, and boosting waste collecting statistics and information sharing to promote transparency. This policy specifically promotes Australia's participation in UN Sustainable Development Goal 12 on responsible consumption and production. It also plays a vital role in ensuring Australia fulfils its international duties. Although The National Waste Policy sets forth an effective, efficient, and achievable action plan, the challenge lies in convincing the private sector to undertake transformation and implement reform. There is a slight reluctance from the private sector because developing a circular business model is difficult and making the incorrect decision can be costly.
The National Waste Policy of 2009 outlined the following goals and strategies: Less waste, more resources have been instrumental in improving waste management, introducing products and resource stewardship, and creating national reporting of national waste and resource recovery statistics to drive policy and choices. The 2018 National Waste Strategy improves on the 2009 policy by emphasising waste prevention, enhanced material recovery, and the reuse of recovered resources. It lays forth a shared view of what should be prioritised in response to shifting worldwide trash markets. It will assist Australia in moving closer to a circular economy, which decreases waste while also improving economic, social, and environmental results. It will aid in the expansion of resource recycling systems and the re-establishment of Australian trust. While Australian businesses recognise the necessity of transitioning to a circular economy, many are hesitant to take the required measures to enact reform.
According to the second edition of the Australian Circular Economy Hub (ACE Hub)'s annual Circularity in Australian Corporate survey, an overwhelming 88 percent of business decision makers think that the circular economy will be crucial for their company's future, with 34% saying it is highly significant. The study, titled Circularity in Australian Business 2021: Awareness, Knowledge, and Perceptions, assesses how well Australian firms understand and apply the circular economy. The report draws on the findings of the first edition of the study, which was published in 2020 and assessed the level of circular economy thinking in Australia's corporate community.
The research demonstrates a disconnect between what people think they know about the circular economy and what they actually know. 81 percent of company decision-makers claimed they were familiar with the circular economy idea. However, when given a selection of possibilities, just 27% were able to properly identify the meaning of circular economy. This points to a knowledge gap that must be filled via education and engagement, which the ACE Hub can help with.
The Circularity in Australian Businesses report of 2021 also conducts in-depth interviews with 14 C-suite executives and surveys of 500 company decision makers from a variety of industries were used to develop insights from the study technique, which combined qualitative and quantitative data. The report finds that:
Circular economy is something that 92 percent of company decision makers have heard of and are familiar with.
According to the report, 88 percent of corporate decision makers believe the circular economy will be critical to their company's future success. The 2020 survey yielded the same results.
From 21 percent in 2020 to 34 percent in 2021, the proportion of company decision makers who felt the circular economy will be "very essential" climbed dramatically.
'Reducing expenses' was the most often mentioned benefit of the circular economy (selected by 42 percent of business decision makers).
'Lack of information on how to apply circular economy principles' was the most prevalent barrier to the circular economy found (selected by 40 percent of business decision makers). This emphasises the importance of information services like the Internet.
The private sector is concerned with increasing its revenue. The public sector, on the other hand, tries to increase the people's nett social welfare. This misalignment of goals is a fundamental issue that must be resolved if we are to properly adopt this relatively new notion in the future. Many businesses are just not devoting enough resources to figuring out how to create and implement a circular business model.
Despite the general reluctance from most organisations, there are a few key actors who have succeeded in developing and executing a circular business model. They serve as a beacon of hope, paving the path for others to follow in their footsteps. So, who are they?
The first is BINGO. This company transforms waste into a useful resource. Through their advanced recycling centres, they keep garbage out of landfills. To improve recovery rates, they invest in innovative technologies and process materials for re-use and re-sale. This is healthy for the environment as well as for businesses. Much like the 2018 Waste Policy BINGO has matched its sustainability goals with the UN's Sustainable Development Goals. By aligning their approach with the Task Force on Climate-related Financial Disclosures (TCFD) framework, they're dedicated to examining climate risks and possibilities. They are also researching solar energy for our recycling centres and evaluating alternate fuels for our truck fleets, as well as building Recycling Ecology Park in Sydney's Eastern Creek. They want to achieve diversion rates of more than 75%. This will be accomplished by increasing resource recovery by investing in innovative separation technologies (Bingo Industries 2021).
The second major player is Planet Ark Power. This company is a partner of Planet Ark, it is a renewable energy engineering and technology firm. Their mission is "to unite people businesses and governments through positive environmental change". This is similar to the objectives of the 2018 Waste Policy's objectives. Planet Ark Power provides innovative technology and large-scale rooftop solar to companies and schools, they are working towards accelerating Australia's shift to renewable energy sources. They have already began transforming IKEA Adelaide into a grid-connected, sustainable energy microgrid with their award-winning "eleXsys" Energy Management System. Planet Ark Power's goal is to provide their clients with the most cost-effective, high-performing, and dependable sustainable energy solutions possible. Clean energy solutions that produce measurable energy and cost savings while also assisting their clients in meeting their sustainability goals during the system's lifetime (Planet Ark 2021).
In Australia, the concept of a circular economy is gaining traction. Florin et al., (2015) found that the advantages of circularising Australia's economy were predicted to be worth AU$26 billion per year, with an overall additional value for Australian businesses of AU$9.3 billion. Despite the benefits, private businesses are hesitant to make the move due to the high degree of risk associated during the implementation phase. The potential of a circular economy has been recognised by the public sector. The government has introduced measures such as the 2018 Waste Policy and has allocated $80 million in the Federal Budget for 2021 to the waste and resource recovery business. Will this, however, be enough for the private sector to overcome their reservations and transform these projections into a circular revolution?